TransPiksel 2020
Jump to navigation
Jump to search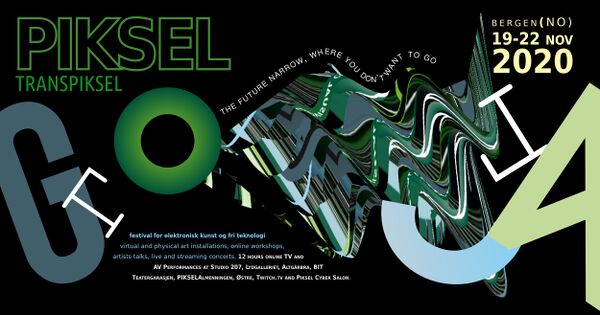 Download TransPiksel artists dossier PDF
Transpiksel, Laboratorios sobre arte electrónico y cultura digital en Abya Yala | Free Digital Culture Labs in Latinamerica
Transpiksel 2020, Festival Piksel
TransPiksel – nettverksprosjekt i Sør-Amerika - 2020
In 2016, Piksel carried out the pilot project TransPiksel which consisted of a tour to 3 countries in South America: Mexico, Peru and Colombia. The project was continued in 2017 with a tour to Colombia, Peru and Chile, in 2018 to Mexico, Peru and Ecuador and in 2019 we focused on 3 countries: Peru, Mexico and the Dominican Republic. Our partners are festivals for electronic art, independent media labs and local cultural institutions. The project was very successful and a number of new contacts were established. TransPiksel toured with an international group of artists in experimental electronic art and music who work with DIY tools and free technology. In addition to exhibitions and concerts, they held workshops and collaborated with local artists and musicians to establish long-term relationships to strengthen the international network Piksel is part of. In 2020, and due to the impossibility to travel in its usual dates and modes, the Transpiksel festival becomes virtual joining the effort of each international node. The TransPiksel festival is hosted on November 21th - 23rd. About the project: Piksel is organizing TransPiksel, a Central and South American tour comprising 3 countries: Mexico, Peru and Dominican Republic. Our partners are museums, artist-run organisations and other non-profit cultural institutions.
Four days of innovative and technological based audiovisual workshops, exhibitions, concerts and a BioART Lab with international and local artists focused on biology and environmental sciences and Do-It-Yourself electronics held in each city.
The Piksel curatorial team (Maite Cajaraville & Gisle Frøysland) have chosen a representative group of artists and works from Piksel Festival participants in order to present the most innovative artistic research on new and emerging technologies based on openness and free cultural practice.
Throughout the workshops Piksel wants to research the Latin American artistic scene and promote the creation of new works that can be the base of future exchange. Piksel intends to show the resulting art pieces in November at the Piksel Festival in Norway.
The works range from sound art, sound installation, video research, interactive video, video performance, interactive installation, stand alone video loops (Pikselsavers), DIY BioHacking, visual programming and live coding.
In each city/country, a group of local artists will be selected from an open call using Piksel festival management software, which includes artists automatically at the growing artists database. Curatorial tasks will be shared with local curators and directors.
TransPiksel events, acting as a pilot project, aim to establish a long lasting collaborative network of interconnected nodes to work with in the next years.
Mer info: http://transpiksel.net/
---